(Dis)playing paper, hours and constellations #1
curated by Susanne Husse

Achim Lengerer
Proben zu P.W. / Dokumente und Fußnoten
Rehearsing P.W. / Documents and Footnotes

Exhibition: 1.- 9. February 2013
Opening hours: Tuesday to Saturday 12 am – 6 pm 
Opening: 31. January 2013, 7 pm 
Public rehearsal with guests: 8 – 9 pm*
*The rehearsal is in German, no entry after 8pm.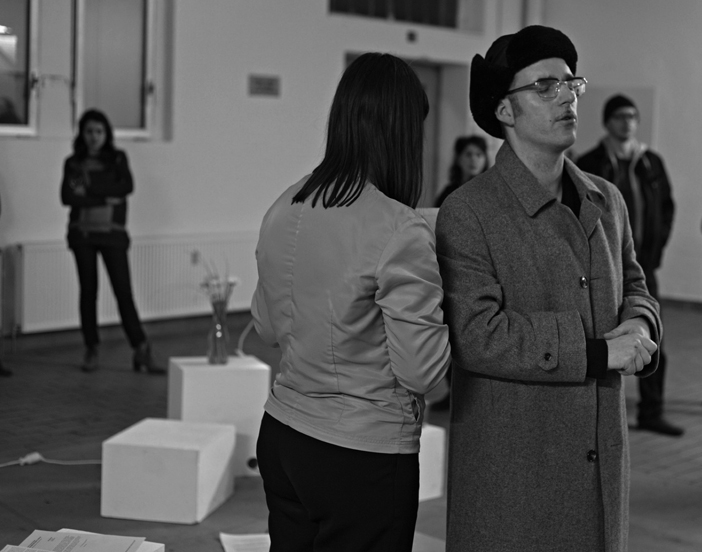 On January 31. District Kunst- und Kulturförderung opens a four-part series
of exhibition experiments and performative exercises, the first is
Achim Lengerer's Rehearsing P.W./ Documents and Footnotes.
The point of departure for the series(Dis)playing paper, hours and constellations is artistic written and visual documentation in different media, including present forms of musical notations, documentations of political negotiation processes or publication projects like the French art magazine Volume, which specialises in sound art. The main focus lies on the notational character of the documents, i.e. their future capacity to be interpreted as scripts, sketches or scores for spatial experiments and motivation for actions.
Achim Lengerer works with questions concerning language, which are addressed in performances, installations and publications. Rehearsing P.W.
is based on research about the aesthetics of political speech in different archives from the FRG and the former GDR.
In the public rehearsal on January 31, 2013 the artist presents written documents and sound recordings about the controversial East and West German reception of the play "Trotski in Exile" that premiered in 1970 by the author P.W. Lengerer questions the topicality of P.W.'s assertion that "the establishment of an independent artistic region" is "no longer possible" and the historical symptomatology of a divided world emerging from correspondences, media articles, diary entries and surveillance reports
The materials of the Rehearsals of P.W. are published on the occasion of the exhibition as the 31. edition of the publication series Scriptings.
District Kunst- und Kulturförderung
Bessemerstraße 2–14
12103 Berlin
T +49 30 71 09 30 93
M +49 17 84 58 39 75
post@district-berlin.com
www.district-berlin.com
By foot: Exit S-Bahn Südkreuz on the east side. Walk under the overpass, past Ikea, and through the parking lots. Enter the Malzfabrik compound with its four tall smokestacks. 
.....................................................................

Proben zu P.W./ Dokumente und Fußnoten
Achim Lengerer
Ausstellung: 1. bis 9. Februar 2013
Öffnungszeiten Dienstag bis Samstag 12 bis 18 Uhr 
Eröffnung: 31. Januar 2013, 19 Uhr ?Öffentliche Probe mit Gästen: 20 bis 21 Uhr.
Die Probe findet in deutscher Sprache statt,
nach 20 Uhr kein Einlass.
Am 31. Januar eröffnet die District Kunst- und Kulturförderung mit Achim LengerersProben zu P.W./ Dokumente und Fußnoten eine vierteilige Reihe von Ausstellungsexperimenten und performativen Übungen. Ausgangspunkt für die Serie(Dis)playing paper, hours and constellations bilden künstlerische Schrift- und Bilddokumente in verschiedenen Medien, darunter gegenwärtige Formen musikalischer Notierungen, Dokumentationen politischer Verhandlungsprozesse oder Publikationsprojekte wie das französische, auf Sound spezialisierte Kunstmagazin Volume. Im Vordergrund steht der Notationscharakter der Dokumente, d.h. ihre Zukunftseigenschaft, sich als Skripte, Skizzen oder Partituren für räumliche Versuchsanordnungen und Handlungsmotivationen interpretieren zu lassen.
Achim Lengerer beschäftigt sich mit sprachbezogenen Fragestellungen, die in Performances, Rauminstallationen und Publikationen thematisiert werden. Proben zu P.W. basiert auf Recherchen zu Ästhetiken des politischen Sprechens in verschiedenen Archiven der BRD und der ehemaligen DDR. In der öffentlichen Probe am 31. Januar 2013 inszeniert der Künstler Schrift- und Tonaufzeichnungen zur kontroversen ost- und westdeutschen Rezeption des 1970 uraufgeführten Theaterstücks "Totzki im Exil" des Autors P.W. Die sich in den Briefwechseln, Presseartikeln, Tagebucheintragungen und Überwachungsberichten darstellende gesellschaftshistorische Symptomatik einer geteilten Welt sowie die Überzeugung P.W.'s, "die Errichtung einer unabhängigen künstlerischen Region" sei "nicht mehr möglich", wird von Lengerer auf ihre Aktualität befragt.Die Materialien der Proben zu P.W. erscheinen als 31. Edition der PublikationsreiheScriptings zur Ausstellung.

.....................................................................

Pictures of the live-performance with several speakers/readers as well as the live printing of pamphlets and a literal live "layout" of Scriptings#31.